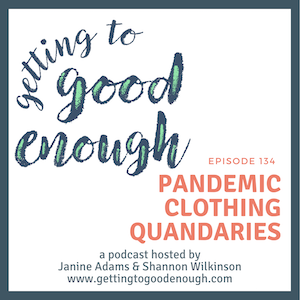 Since our work and social lives have been curtailed by the pandemic, it seems like it should be easy to get dressed. Not so much. In this episode, Janine and Shannon discuss their challenges around clothing during this special time. Spoiler alert: There's lots of laughter in this one.
Discussion topics include:
How much we're enjoying pandemic-friendly comfy clothes

The paradox that it's difficult to get dressed even though we're going nowhere

Shannon's pull between wanting to be comfortable and wanting to look professional

How Janine's standards in clothing seem to have plummeted

How Janine's problem isn't wearing the same thing every day, it's that what she has to choose from isn't very attractive and the pandemic prevents her from shopping

Shannon's "house fleece"

The cowl that Janine knit specifically to wear with her bathrobe

Shannon's layering tips for warmth

The Wool& 100-day dress challenge

Project 333

How perfectionism is part of this problem

Shannon's desire to dress more professionally when she's working, even though she's on Zoom

Getting in touch with what's important to you right now to get past the perfectionism around this issue

Cutting ourselves slack

The decision fatigue caused by the pandemic

How a little bit of action now can help us feel better about what we're wearing and make it easier to get dressed in the morning
Note from Janine: I bought the Wool& Rowena dress and have taken on the 100-day challenge. It is fantastically freeing and I'm feeling comfortable and cute every day! Shannon ordered the dress, but unfortunately the wool was too itchy for her sensitive skin.
Here's a photo of me in the dress.
Links: