Join us live, in April, for Declutter Happy Hour!
Declutter Happy Hour infuses the decluttering process with secret ingredients: mindset change and time (plus tips, fun and laughter).
Each of the four sessions starts with a discussion led by Janine and Shannon about an important aspect of the decluttering process and the mindset shift that goes with it.
Then, during the class, you get time to work on a decluttering project. We are with you the whole way to answer any questions and provide support and encouragement.
By the end of a month of Declutter Happy Hours you'll have let go of more than just stuff and you'll have the tools to take on decluttering projects on your own!
The four-session series runs Wednesdays in April, at 4pm PDT/6pm CDT. Grab your seat at eventbrite before it sells out (space is limited to ensure your questions get answered)!
We're super excited to see you in April!
____________
You can bring a little Getting to Good Enough into your home for enjoyment between podcasts.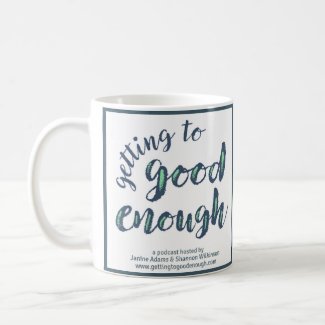 Here's the mug Janine made as a surprise gift for Shannon. It can be yours for $14.95!
Good Enough Goal Setting is a recently updated 25-page workbook. When you buy the workbook, you'll automatically get a download of the original 2010 teleclass, complete with guided hypnosis exercises led by Shannon, who is a certified hypnotherapist. These exercises will aid you in setting–and achieving–your goals this year.
Just $15. Simply click on the View Product or Add to Cart button to purchase via PayPal.
P.S. After you purchase, you'll get an email from Peace of Mind Organizing and see Peace of Mind Organizing on the download page. That's because we used Janine's e-commerce account to set this up.