You can bring a little Getting to Good Enough into your home for enjoyment between podcasts.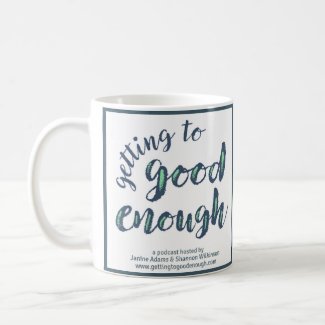 Here's the mug Janine made as a surprise gift for Shannon. It can be yours for $14.95!
Good Enough Goal Setting is a recently updated 25-page workbook. When you buy the workbook, you'll automatically get a download of the original 2010 teleclass, complete with guided hypnosis exercises led by Shannon, who is a certified hypnotherapist. These exercises will aid you in setting–and achieving–your goals.
Just $15. Simply click on the View Product or Add to Cart button to purchase via PayPal.
P.S. After you purchase, you'll get an email from Peace of Mind Organizing and see Peace of Mind Organizing on the download page.